International Renewable Energy Agency: Airborne Wind Energy is Game Changer for Offshore Wind
The International Renewable Energy Agency (IRENA) sees large potential for Airborne Wind Energy and has called the technology a "potential game changer" for offshore wind energy.
IRENA reviewed and assessed technology improvements for offshore wind energy in its Technology Report Offshore Wind Energy, published in 2016. The report investigates the major technology innovations expected for offshore wind energy until 2045 and lists the most important technical developments to guide policy makers, industry and academia.
IRENA considers Airborne Wind Energy to be of the highest relevance for offshore wind energy. IRENA's summary of the technology reads: "Airborne Wind is a potential game changer, with potential to reduce the cost of energy by up to half while at the same time opening up new markets."
Amongst the 14 technologies that were identified as technology improvements for offhore wind, Airborne Wind Energy was ranked the technology with the third biggest impact of all innovations: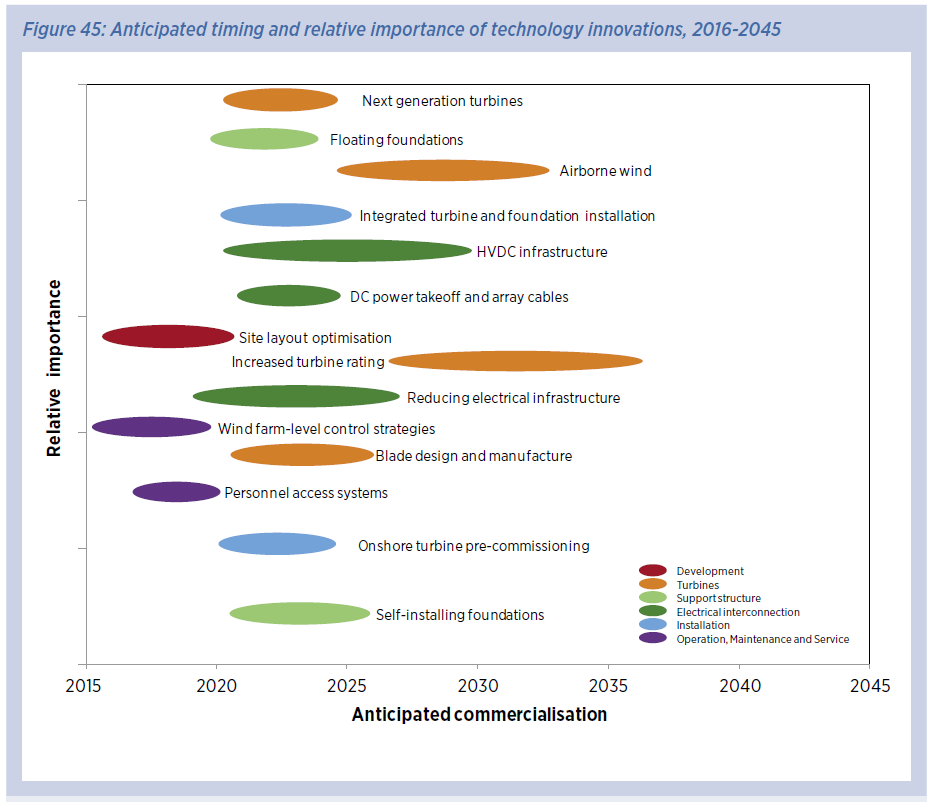 Source: IRENA, Innovation Outlook Offshore Wind, 2016
Airborne Wind Energy will start to be commercialy available around 2025 according to IRENA, in line with the projections of Airborne Wind Energy companies.
IRENA points out in the report:
"Airborne wind offers a significant potential LCOE [levelized cost of electricity] benefit through lower material use and lower CAPEX, and higher energy production than conventional turbines.
Due to lower overturning moments and lower foundation-mounted mass, airborne solutions are well suited to floating foundations, thereby offering the potential to open up new markets.
Airborne wind also offers decreased environmental impact due to lower material use, lower structural loading (hence less impact during installation) and reduced avian impact.
With more technology located closer to the water level for installation, maintenance and service, airborne wind also offers the opportunity to improve health and safety.
Commercialisation at scale is likely to start in the late 2020s, but it could have a significant impact when it does reach the market."
Download the IRENA report here.